New Chicken Caravan 30 - Gen 5
New Chicken Caravan 30 - Gen 5
The Ultimate Portable Automatic Chicken Coop
New Chicken Caravan 30 Available for PreOrder Now
Make Owning Your Chickens and Managing Your Land Hassle Free with the Chicken Caravan 30
The New Generation 5 Chicken Caravan 30 is the ultimate automated chicken coop that houses 30 laying hens. This coop lets your hens out in the morning and then locks them away at night. It is powered by solar it keeps the water fresh, the feed dry, eggs clean and it's really easy to move.
This product is available to Australian customers only
Key features
– Designed to hold up to 30 Isa Brown hens
– Rollaway nesting box that can be leveled out when parked on uneven ground
– Automatic nesting box gates that closes the nest at night (no more dirty eggs)
– Automatic door to let the birds out in the morning and closes them in safely at night
– Solar system and battery, so you dont have to power it
– Nipple drinkers to provide your hens with clean water
– NEW Slide out Galvanized steel feeder that is mounted under the Chicken Caravan
-New Automatic Rodent cover on the feeder. This cover closes the feeder at night and opens it in the morning
– Pull out ramp that gives your hens access to the Chicken Caravan
– Tow Handle for easy moving
– Fold-out tow ring so you can tow with any vehicle with a towball
– The roof lifts up on each side so that you can have access to all areas of the Caravan
– Three wheels, one that swivels with a tow handle so that it can be moved around by hand
– Brake on the swivel wheel, to help stop the caravan from rolling when parked on a slope
-NEW Touch Screen Control box making it even easier to set your open and close times.
The ultimate chicken coop, perfect for hassle free ownership of your flock of chickens and easy maintenance of your land.
Are you sick of your chickens wrecking your backyard?
Are you sick of your chickens destroying your backyard?
Those damn chickens just never stop scratching, in no time they turned your grass into dirt and you just can never get your grass back no matter what you try.
You love your chickens but you want your backyard back full of green grass and not this dirt paddock it has become.
What if you could easily move your Chicken Coop and use the chickens to manage your land not have them destroy it?
Are your chicken's high maintenance?
Getting up early in the morning in the freezing cold to let your chickens out SUCKS,
Let alone cleaning out their chicken poop filled water, sweeping away the manure out of their coop and then not forgetting to lock them away safely at night!
Wouldn't it be nice if something did it all for you?
It let your chickens out, locked them away safely and was well designed enough that you don't have the clean away the manure.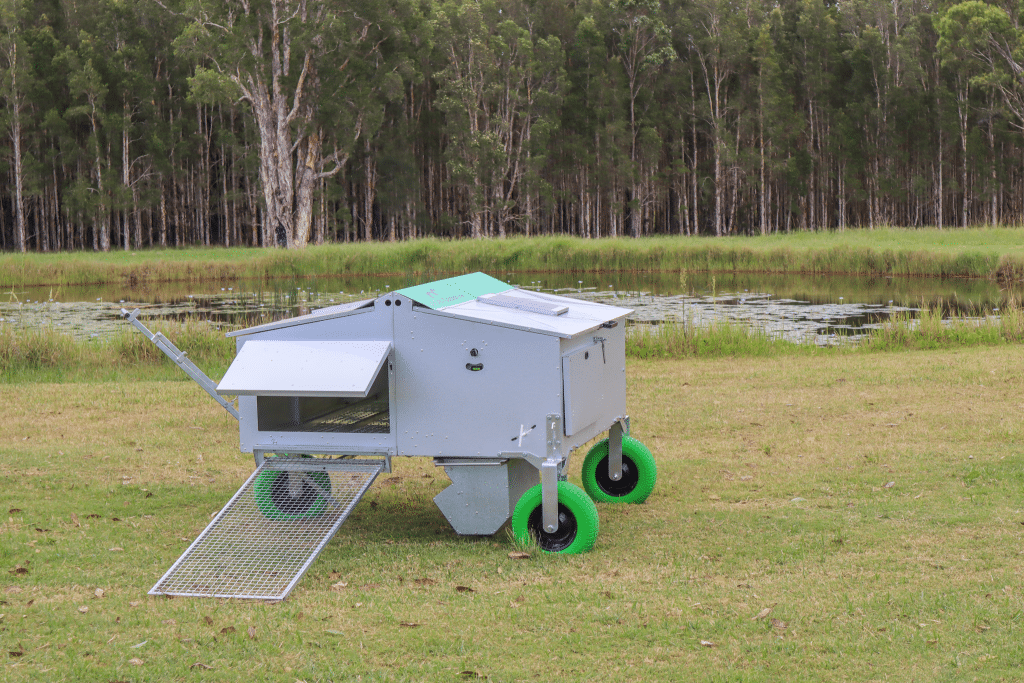 Have you ever collected your chickens eggs only to realize they are covered in chicken poop?
You pick up your fresh eggs and then you realize you have chicken Poop on your hand!
A problem hen that has decided she wants to eat your eggs now you have no eggs and a mess to clean up.
How about a system which safely collects your eggs, keeps them clean and away from any problem hens?
Have you ever worried that your chickens could become a predators lunch?
Or worse yet you have lost a chicken to a fox or a snake?
You cant do anything about it as you cant be around your chickens all the time,
Even when you lock them away in their coop a snake can get into it and get to your chickens!
We have the solution for you! The Chicken Caravan 30 will take care of your chickens.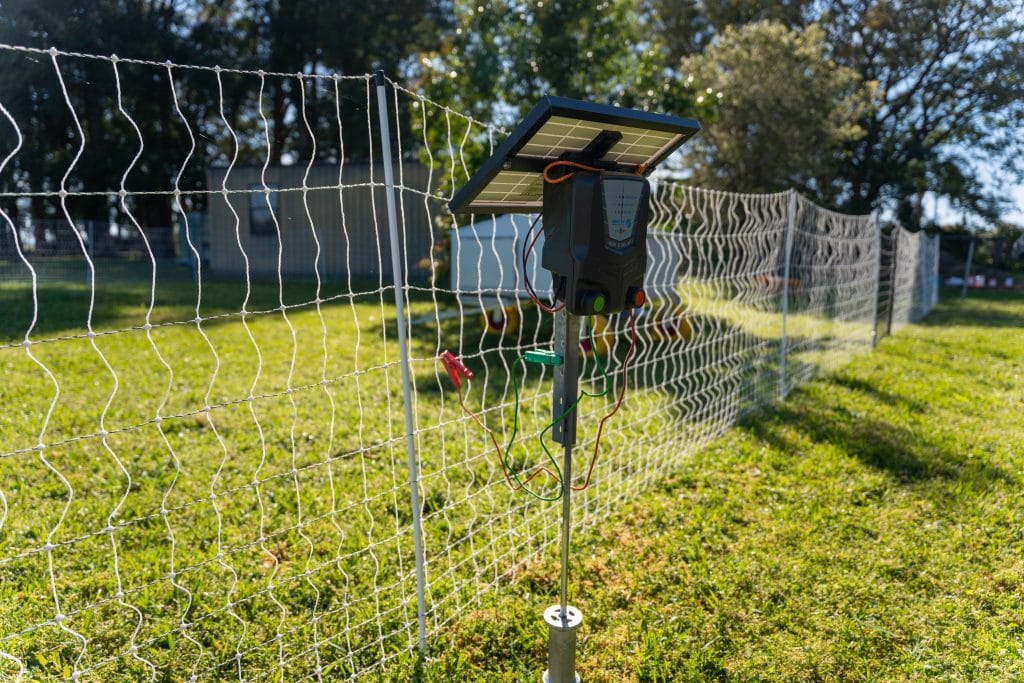 World renowned permaculture expert Geoff Lawton explains how he uses his Chicken Caravan 30 on his own farm
The Chicken Caravan 30 is an automated chicken coop that houses 30 hens
It lets your hens out in the morning and then locks them away at night. It is powered by solar, keeps the water fresh, the feed dry, eggs clean and it's really easy to move.
This means you can move your chicken coop around so your grass doesnt get destroyed and no snakes can take up residence inside your chicken coop.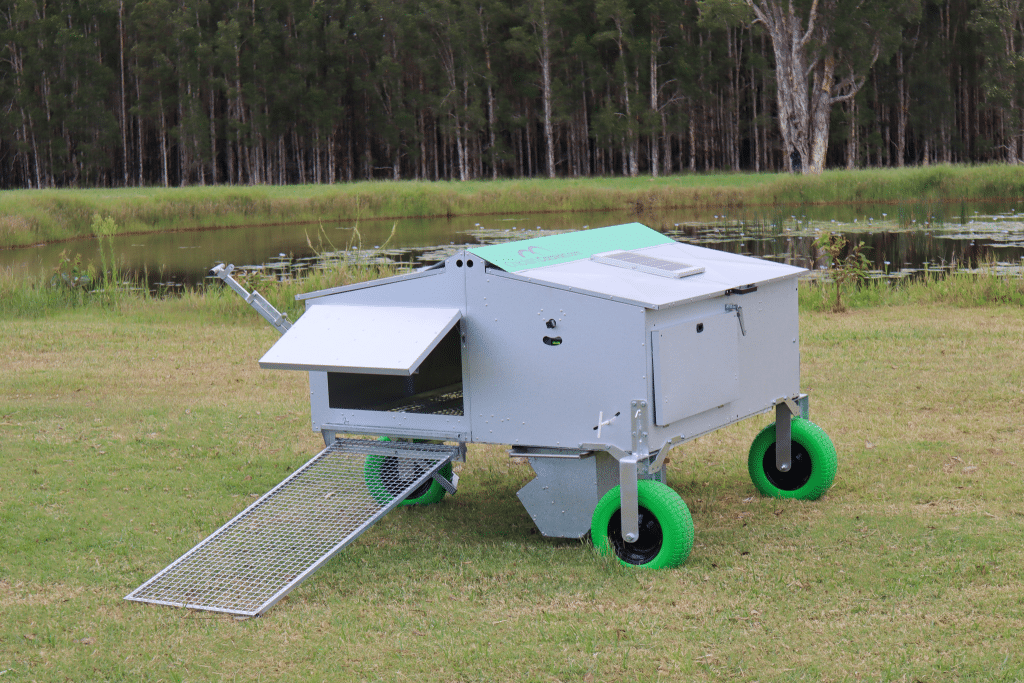 Collecting dirty eggs just sucks.
With the Chicken Caravan 30, you will never need to collect a dirty egg again.
You see, the nesting box is a rollaway nesting box, meaning as soon as the hen lays her egg it rolls down to a collection area not accessible to the hen (so she won't be able to stand on the egg and break it).
This means your fresh eggs are kept clean, safe and most importantly not making a mess that you have to clean up!
Rollaway nesting boxes are not enough though!
Every nesting box needs nesting box gates.
Why you may ask?
Well did you know that some hens will sit in the nesting boxes at night and fill it with poo? Then in the morning the eggs are laid in that poo, and voila, you have dirty eggs.
To avoid this, you need automatic gates that close on your rollaway nesting box in the afternoon, so the birds won't be able to sit in the nesting boxes all night, resulting in clean eggs for you.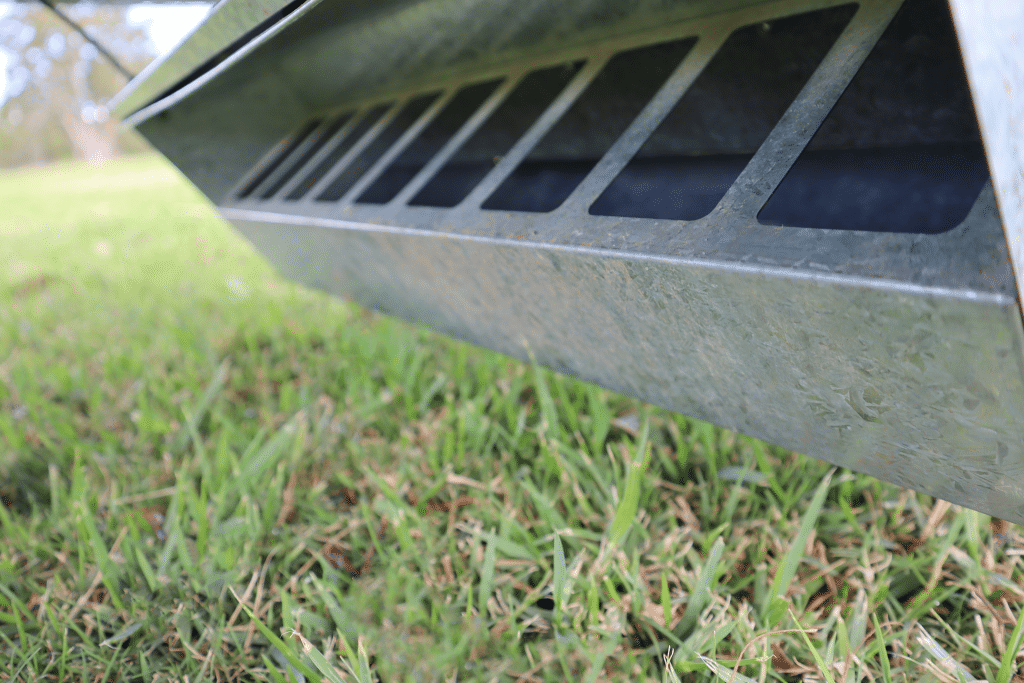 A feeder that your chickens will LOVE!
A lot of chicken feeders on the market are not designed for the outdoor environment.
But never fear, your Chicken Caravan 30 comes with a large, gravity fed galvanized steel feeder, with wide weather covers on all four sides.
This hangs securely under the Chicken Caravan 30, ensuring your feed stays dry.
We have also created a huge metal funnel that makes filling the feeder a breeze.
The water supply on the Chicken Caravan 30 can not get dirty.
See if you have a bowl of water instead, the chickens can scratch dirt or grass into it easily or even worse, if they do a poop and their back side is hanging over the bowl, Ewww!
With nipple drinkers, the hen touches her beak on the stainless steel drinker and water starts trickling out. There is no way for the hens to contaminate the clean water.
We have designed the Chicken Caravan 30 so you can put a 20-30 litre water container directly into the top of the unit. This way your water is inside and not out in the sun.
Simply put your own water drum in the top, secure it with the strap provided, connect the nipple drinker pipe to the water drum and your hens are ready to drink fresh, clean water.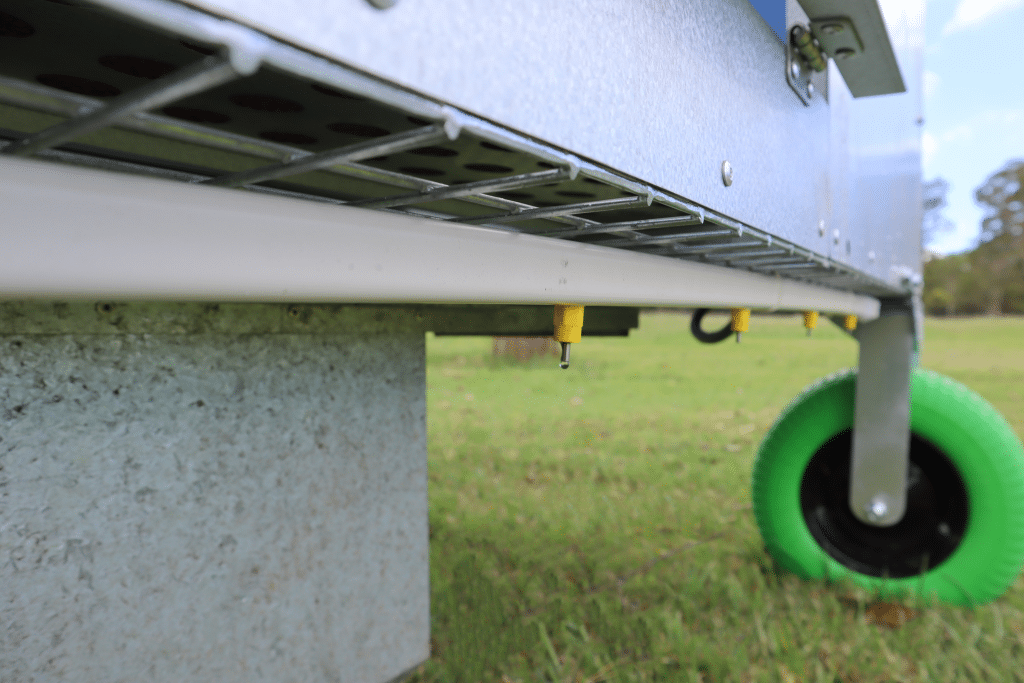 An engineered Twin Layer Roof that keeps your chickens dry, cool and protected.
The Chicken Caravan 30 roof is more than just a cover. This roof keeps the hens dry in the rain and cool in the summer. It does this thanks to the specially engineered Twin Layer roof construction.
The construction of the roof has a top and bottom panel and between these 2 panels is an air gap. This air gap provides insulation from the hot sun in summer time.
Secondly, the colour is silver so it will reflect a lot of heat right away and the heat that is generated from the sun does not penetrate directly into the Chicken Caravan because of the air gap.
So your hens can happily come and go into the Chicken Caravan throughout the day to lay their eggs and enjoy a more stable temperature away from the hot sun.
Yes this coop CAN be moved by hand!
You will not need a 68 horsepower tractor or a german tank (although they would be cool).
We have learnt over the years that if the chicken coop is hard to move, it will not get moved. So we have come up with a design that is REALLY EASY to move.
Simply pull the Chicken Caravan along by the tow handle.
The wheels are tall and wide, and these big wheels make it easy to move without worrying about small humps and dips in the grass.
The tow handle is mounted to the front steering wheel and has a built in brake, so when you park your Chicken Caravan in one spot it will stay in that spot.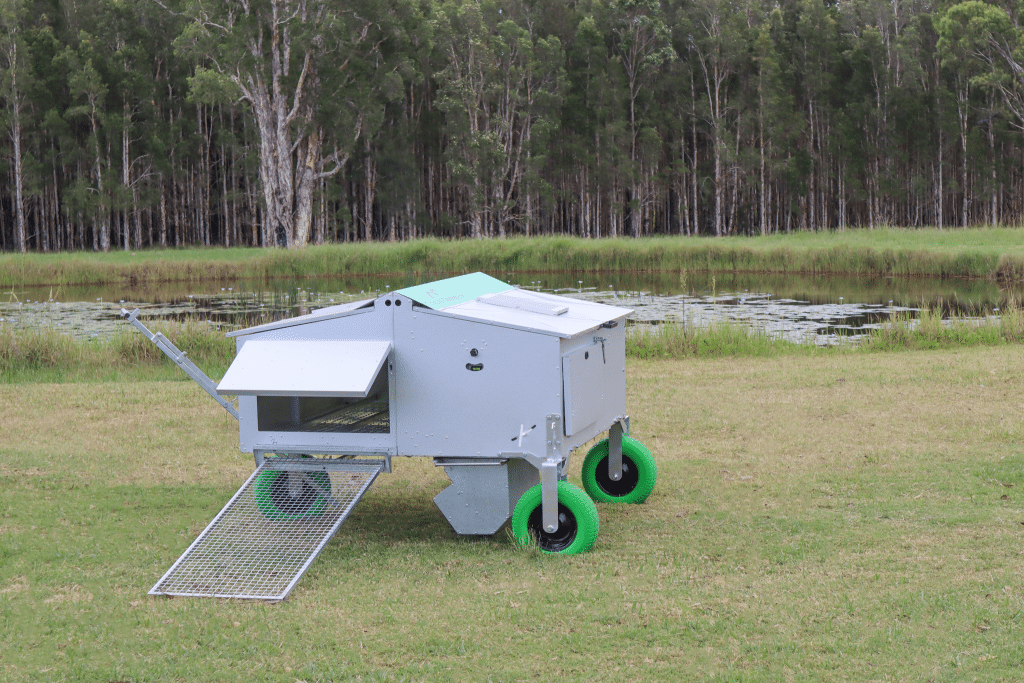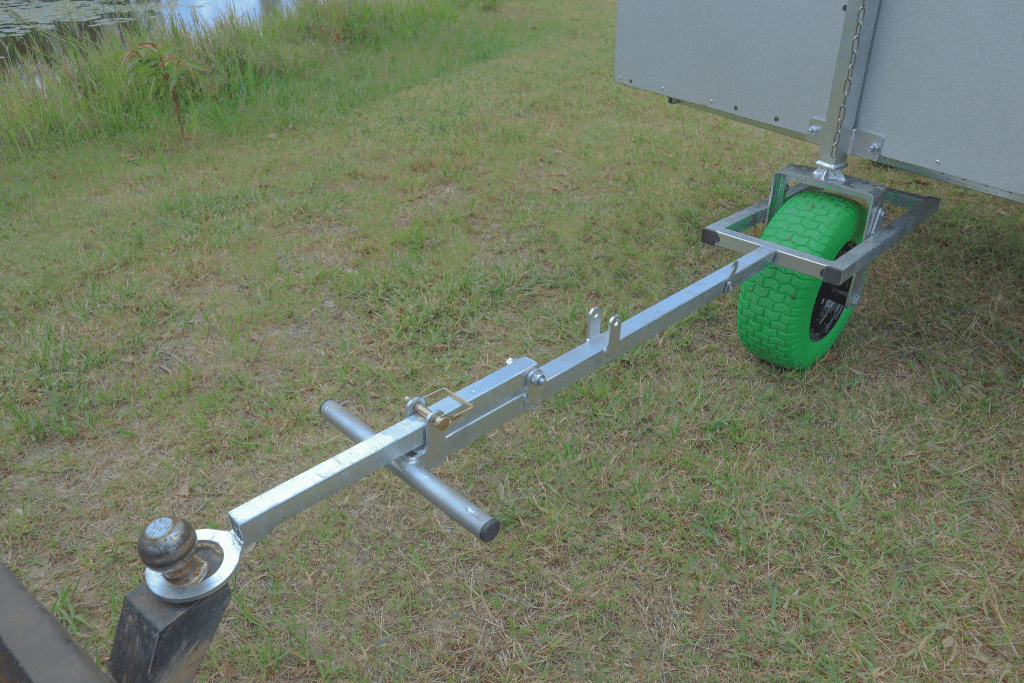 What if you don't want to move it by hand?
What if you want to tow it behind your ride-on mower or quad bike?
We were waiting for you to ask that question. I get it, you have 2 arms and 2 legs, but you also have a powerful yellow quad bike you'd like to use.
So, we have built in a fold out tow ring that is placed over the tow ball on your quad bike or mower and it can tow it along for you, It couldn't get any easier.
Increase laying production with lights.
In the short days of winter your hens will not be laying many eggs. With the optional lighting kit you can increase the day length and increase the egg production from your happy hens.
It also doubles as a light for you so you can see while you are using the Chicken Caravan 30 at night, so you dont have to bring a torch with you.
No poop in this coop!
No you won't have to clean out chicken poop every week from a smelly coop. I'm sure this will be one of your favourite things about the Chicken Caravan 30.
You see the hens do most of their pooping at night while on their perches, and under those perches is a mesh floor, so all the poop falls through to the ground under the coop. So you don't have to clean poop from this coop, at all.
Doors, Gates, Lights and Automation powered by the sun.
The touchscreen control box manages all the automation systems for you.
He opens up the door in the morning to let the hens out
He makes sure the gates on the nesting boxes open up so the hens can go in and lay their eggs
He turns the inside lights on in the afternoon and off again before sleep time
He closes the nesting boxes late in the afternoon making sure the hens don't sit in the nesting boxes at night
He closes the outside door after
He will even let you know how much charge the battery has
Jenny "loves" her Chicken Caravan 30
Geoff Lawton - "I wouldn't want to farm without it"
Murray - "Its Great, We Love it"
Adrian Palmer Agriculture Teacher - "Its absolutely perfect for a School Situation"