The Chicken Caravan 450 is the second to the largest model holding 450 laying chickens.
The Chicken Caravan can be surrounded by an Electric Chicken Fence to keep your chickens contained and predators out.
The Chicken Caravan 450 has a man section in the front that you can go and collect your eggs from the conveyor belt, out of the elements and away from chickens. There is a shelf above the conveyor belt to place spare egg trays and full trays of eggs.
Our customers say that one Chicken Caravan saves them about seven hours a week of work, compared to conventional nesting boxes with straw and sawdust that you have to collect eggs 2-4 times a day, with a large amount of eggs needing cleaning.
This product is available to Australian customers only
-House laying hens.
-Rollaway nesting boxes.

-Conveyor belt for egg collection

-Six pull out shade/shelter doors on lockable gas struts.

-Constructed with Galvanised Steel.

-2.5 metres wide, 8 metres long.

-Auto Open/Close nesting boxes powered by solar.

-Adjustable leveling on nesting boxes (for slopes and uneven ground).

-The Chicken Caravan 450 DOES NOT come with a water system and drinkers.
Optional extras for Chicken Caravan 450
-Nipple drinkers -Lighting system -Automated Doors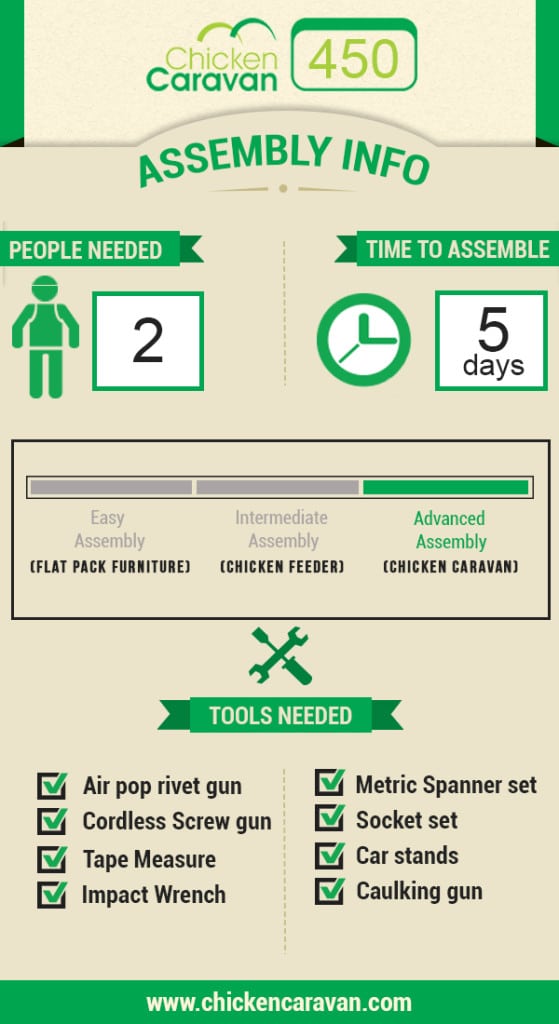 Want something smaller? Have a look at our Chicken Caravan 130 or our Chicken Caravan 30
All the Chicken Caravans are "flat packed" – all items to build are packed on a pallet, ready to assemble with instructions. This can make freight substantially cheaper.
Because they are flat packed we do NOT supply roof sheet for the Chicken Caravan 450. You will find roof details at the bottom of this page so you can order it from a local supplier near you.
If you do not want to assemble the Chicken Caravan yourself we do offer a factory assembled option, please contact us for more details and prices.
Please note the Chicken Caravan now comes with steel perches not timber as seen in the video.
What Happens When I Order a Chicken Caravan 450?
FAQs about our new Flat Packed Chicken Caravans
Will I have to weld the Chicken Caravan together?
No. The structure is bolted together, and the nesting boxes are pop riveted together
How long does it take to put together?
The Chicken Caravan 450 takes 2 people about 5 days.
What options can I get on the New Chicken Caravan 450?
Lighting kit to extend hours of day light to improve production.
What tools do I need to assemble the Chicken Caravan 450?
Cordless drill

Socket set

Spanner set

Car Stands

Pop rivet gun

Chalking gun

Tape measure

Tools that we recommend to make assembly easier:

Air impact wrench

Air pop rivet gun
Can I just buy the flat packed nesting boxes and put them in my own shed?
Yes, we do offer just our nesting system, see this page for sizes and prices.
I am not good at putting things together. Can I pay extra and get you to assemble it for me?
Yes certainly, we do offer workshop assembly.  For customers in Australia, please contact us for more details on this service.
How is the Flat Pack Chicken Caravan Delivered to me?
We can arrange delivery of your Flat Pack Chicken Caravan with a transport company. Please contact us and we can send you a quote.
I don't live in Australia, do you sell your Caravans overseas?
Yes, we have sold Chicken Caravans to USA, Canada, Europe and New Zealand. Please contact us and we can send you a quote.
Roof Sheet Specifications – Click your country below to download PDF
How does deposit and payment for Chicken Caravans work?
Once we have worked out an estimated date for delivery, a deposit of 50% of the invoice will be required along with a signed copy of our terms and conditions to secure your order. The remaining 50% amount will be paid prior to dispatch.