Chickens are highly beneficial for farmland. They help to spread ruminant manure, control pests and add nitrogen to soil to boost pasture growth.
Pastured Chicken Eggs are also a great source of income. Learn more about our Chicken Caravans by clicking on the options below.
Join Our Newsletter
Join our mailing list to receive the latest news and updates from our team.
Thank you for Joining our Newsletter...
The Chicken Caravan is more than just a chicken shed – it revolutionises the way you collect eggs. In production since 2010, the Chicken Caravan comes in different sizes that cater from 10 to 600 laying hens. 
If you are looking for a large coop which is portable enabling you to easily fertilize different pastures, is easy to clean, and cuts your labor costs in free range egg farming, then the Chicken Caravan is for you.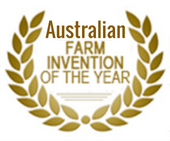 Chicken farming made easy with Chicken Caravan
AN INNOVATIVE, PORTABLE, MOVABLE CHICKEN COOP
WINNER AUSTRALIAN FARM INVENTION OF THE YEAR
New Ebook! Pastured Egg Farming Success